The BHW Show of the Year 2013 took place at The Winter Gardens, Blackpool, over the weekend Saturday/Sunday 19th/20th January.
Despite the snow lying across the country, a large crowd still braved the journey to Lancashire and made the most of the various events.
Our congratulations to all of the prize winners, particularly Mr & Mrs G Thresher who won both Supreme Champion and Best in Show. The full list of winners can be seen here.
As well as the usual national coverage in numerous papers and websites, a number of camera crews descended on the Winter Gardens.
Among them was Robson Green, star of TV's Soldier Soldier, Casualty, Wire in the Blood etc who was filming a series on the hobbies of shipbuilders, millworkers and miners in the North East and North West. Robson's father and grandfather had kept pigeons, and he proved quite knowledgeable on the subject. He is seen left with John Robilliard.
Among other activities, the RPRA's Young Fanciers enjoyed talks from top fanciers Frank Bristow and Mark Gilbert (who is seen below right with Paisley Brindle).
Below are links to articles on other websites, which include interviews with members and visitors, and an item on Ukrainian television:
Link: BBC website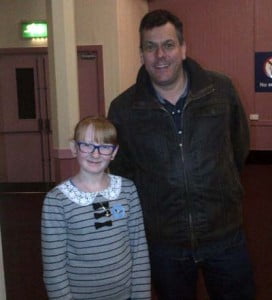 Link: BBC Lancashire 1
Link: BBC Lancashire 2
Link: Yahoo! News
Link: Ukrainian TV
The thumbnails below show the Blackpool Gazette's special pullout for the weekend. Click on one to view the slideshow.