Eleanor Wright of the British Homing World editorial staff asked to of our younger members – Jo Cuthbert and Chris Williams – if they could describe in their own words why pigeons are so special.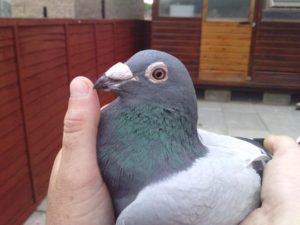 She says; "I decided to challenge them to make their pitch and try to explain the appeal. If we are to market our sport as a credible leisure pursuit in order to compete with all the others so readily available then we must at the very least try to explain its 'X Factor', why it ticks so many boxes, and can even be thought of as a poor man's therapy acting as an antidote to the stress and disharmony which seems to dog our busy lives.
"Chris and Jo correspond via social media and together they decided to each write a 'personal statement' of why pigeons mean so very much to them.
"Their accounts are moving and heartfelt and even the die-hard cynics must recognise their sincerity. I do hope you find their stories compelling reading, I know I did, but don't read on if you want to hear carping, petty jealousy or we have no future, because there is none of that here!
"My thanks to them both."