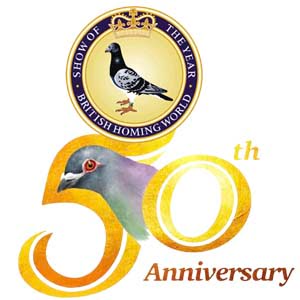 After a year off due to the Covid pandemic, the BHW Show of the Year returned to Blackpool over the weekend to celebrate its 50th Anniversary.
Thank you to everyone that made it the success that it was, under trying circumstances, and to the many visitors that came along. The results were as follows (subject to ring verification etc) – our congratulations to all of the winners:
• Trophy Winners
• Class Winners
• Full Class Results
• Raffle Results
The full British Homing World report on the Show can be seen here, and we hope to add to the gallery of images from the weekend below. Our grateful thanks to Craig Szlatoszlavek for his atmospheric images from inside the Winter Gardens, and to Chris Sutton for an excellent selection of images from the Gala Evening and Presentation of RPRA Awards.
Below is a video of the Gala Evening and Presentation of RPRA Awards, courtesy of Dreamteam Lofts.
Copies of the 50th Anniversary memories booklet and the Gala Evening programme, listing the various RPRA award winners, can be downloaded by clicking on the relevant image below. As in past years, there were two accompanying issues of the British Homing World magazine – the usual weekly edition, plus a Blackpool Special – and these are also available to view online by clicking on the appropriate images below.